Nova Scotia-based technology startup Ubique Networks, Inc. partnered with Sri Lanka's national telecommunications provider Sri Lanka Telecom (SLT) to use blockchain to power eSports for Sri Lankan gamers.
Originally reported by gaming new site Gaming Post, the two parties signed a formal agreement in November 2018 at the Sri Lankan-based Canadian High Commission.
Zero game lag on a blockchain eSports platform
Ubique Networks will provide it's Swarmio technology, based on its "Q Network" blockchain protocol to provide a decentralized gaming platform for Sri Lanka. The Swarmio dApp, according to reports, is already used by around 25,000 eSports players.
JOIN OUR WEEKLY NEWSLETTER
Swarmio's goal is to allow gamers or eSports players to compete against each other globally with zero lag or latency using its blockchain and intelligent technology.
The technology will be used to meet Sri-Lankan gaming demand from millenials. eSports players will be able to organize and play in competitions based on Ubique's blockchain technology. There currently appear to be three games available on the platform.
The Q Network uses distributed ledger technology (DLT) and artificial intelligence (AI) to provide real time interactive services. As well as the Swarmio dApp technology, Ubique Network's is exploring its blockchain protocol's application for 5G mobile internet of things (IoT).
The Q Network blockchain also has a native dApp called Q Node which allows normal PC users to peer-to-peer share idle resources. Users can choose to allocate unused storage space or processing power when their systems are not in use. Decentralized resource sharing could eventually begin to replace massive centralized data centers by using a connected network of many smaller devices which share power and resources where needed.
Funded by Canadian Development Programs
Ubique Networks hopes to build a hyperconnected, yet decentralized, computer network using its Q Network blockchain.
The company was created in 2015 by CEO Vijai Karthigesu. The organization received funding from investment from Toronto-based venture capitalists Extreme Venture Partners (EVP) and Nova Scotia's Innovacorp. The company also won an "Export Achievement Award" from Nova Scotia's Sydney Chamber of Commerce in 2017.
On top of equity investments and prize winnings, the company received a repayable investment of $500,000 from the Atlantic Canada Opportunities Agency's Business Development Program in June 2018. This last funding was to expand its team from 14 to 24 and help with commercializing the platform and upgrading data centres.
In December 2018 Ubique added a third Canadian office at Volta Labs in Halifax, Ontario.
 
Image credit: Ubique Networks logo
Buy Bitcoin, Ethereum, XRP, and other cryptocurrencies on Coinsquare, the world's home for cryptocurrency.
Buy Digital Currencies on Coinsquare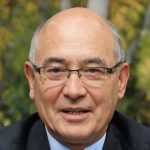 I'm a professional writer with over 10 years of experience in the field of cryptocurrency. I have written for some of the biggest names in the industry, including Bitcoin Magazine, CoinDesk, and The Blockchain Observer. My work has been featured in major publications such as The Wall Street Journal, Forbes, and Time. I am also a regular contributor to CNBC, where I provide analysis and commentary on the latest trends in the cryptocurrency market.